Clove leaf oil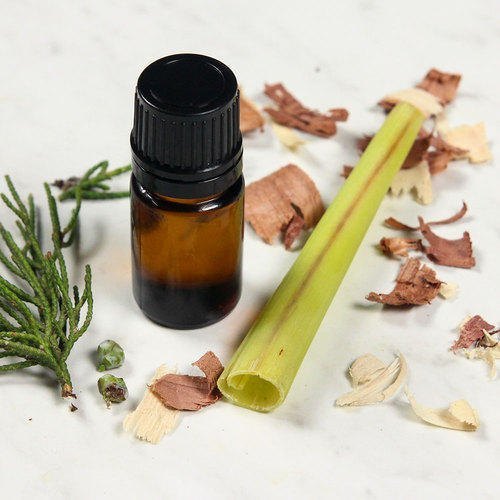 Clove leaf oil
Price And Quantity
Product Specifications
Leaves

100% Pure and Natural
In Kilograms only Kilogram(Kg)

Odour as of Clove
Clear colourless to pale yellow liquid

Pure Essential Oils
Store in a cool dark place
Product Description
Clove leaf essential oil is extracted from Eugenia caryophyllata, alsoknown as Syzygium aromaticum, Eugenia aromatica, E. Carophyllus of theMyrtaceae family. It is extracted by steam distillation of the leaves. It has awarm, strong, spicy smell and the oil is colorless to pale yellow with a mediumto watery viscosity. The whole tree is highly aromatic. A native of Medagaskaand Indonesia, Eugenia caryophyllata is an evergreen tree that grows to about 10meters tall and has bright green leaves. It was often used by the Greeks, Romanand the Chinese, to ease toothache and as a breath sweetener. The main chemicalcomponents of clove oil are eugenol, eugenol acetate, iso-eugenol andcaryophyllene.

Clove oilstimulates the mind, lifts depression, aids digestion, relieves pain inarthritis and rheumatism, eases respiratory problems and assists leg ulcers, isused for acne, bruises, burns and cuts, for skin sores and for infections. Itrelieves pain, helps with toothache and mouth sores, is effective againstvomiting, diarrhea, flatulence, spasms and parasites, helps against bad breath,useful for bronchitis, asthma and tuberculosis, for dizziness, forstrengthening memory, for fighting weakness and lethargy. Clove oil can be usedin a blended massage oil to assist with chills, colds and muscular numbness, Ithas antiseptic properties and is used in the prevention of contagious diseases,such as the Plaque. It is a stimulating expectorant in phthisis. It may causeirritation to the skin of some individuals and can easily irritate the mucusmembranes.

It is a stronggermicide and is used in dental preparations, as a fragrance component intoothpastes, soaps, toiletries, lotions, massage oils, cosmetics and perfumes.It is extensively employed as a flavor ingredient in major food categories,alcoholic and soft drinks. It is also used in the production of printing ink,glue and varnish. It is used in diffusers, potpourri, scent, air fresheners,body fragrance, perfume oils, aromatherapy products, bath oils, towel scenting,spa's, incense, light rings, laundry, facial steams, hair treatments,and more.Clove oil helps keep fish moths at bay, is used as an insect repellent and alsokills ants.

Clove oil isanthelmintic, antibiotic, anti-sphrodisiac, emetic, antihistaminic,anti-rheumatic, anti-neuralgic, antioxidant, antiseptic, counter-irritant,expectorant, stimulant, spasmolytic, stomachic, vermifuge, analgesic,antispasmodic, carminative, anti-infectious, uterine and tonic.
Trade Information
Free samples are available

25 Ml, 100 Ml, 250 Ml, 500 Ml, 1 litre, 5 litres, 30 litres
All India

ISO 9001 : 2015 CERTIFIED